COMMUNITY & STAFF ENGAGEMENT FOUNDATIONS
Techniques for incorporating HCD into engagement sessions
In this course, you will learn the skills necessary to run captivating engagement sessions in a virtual environment.
About the course
Engagement is an essential part of the human-centred design process. By continuing to build your human-centred design (HCD) skills, you can work better and improve how you and your organization navigate complex challenges. Get the skills, tools and approaches to unlock innovation in your organization and navigate uncertainty, disruption and a changing world.
Modules
Promoting meaningful engagement with HCD
This session will teach you techniques to facilitate effective engagement sessions. You will explore how changing your mindset can lead you to ask better questions and get more accurate data. 
Applying human-centred research practices
Practice your new skills in a safe space. This hands-on session gives participants the opportunity to incorporate HCD into their research design to get the most out of engagement sessions.
Learning Outcomes
Employ a human-centred lens to interviews and engagement sessions. This course will teach you how to structure sections' designs to provide the best experience for stakeholders and empower them to share their knowledge. 
What you will learn:
Human-centred design: a brief overview of the human-centred design cycle and how it improves capacity for better engagement
Asking better questions: how to avoid phrasing pitfalls that lead to skewed data
Recognizing bias in research: creating session designs that minimize bias in engagements
Interview practices: tips and tricks for conducting illuminating interviews
Engagement planning: creating an engagement plan to learn from different stakeholders
Overlap Associates Inc. | Creative Problem Solving School

"Overlap's approach help take the fear outta learning while you insert fun. I have had this sick feeling every time I had to engage with technology–but your attitude and approach take away the scariness."

Tracey Poulin Dun

Intro to HCD Participant

Overlap Associates Inc. | Creative Problem Solving School

"Overlap was able to explain concepts and engage people effectively and emotionally in the learning process. From concept thinking to design, they brought an element of a new Human feelings approach that gave me a new perspective of incorporating an end-user approach to a problem versus a global approach."

Tara Payne

H. B. Com, CPA, CGA, Director of Finance and Administration, KW Habilitation

Overlap Associates Inc. | Creative Problem Solving School

"Taking (Intro to HCD) rejuvenated my enthusiasm for work at a time when I was starting to feel disconnected. Not only was it refreshing to work through Launch activities with an interdisciplinary group, it gave me ideas for engaging my own team differently. I immediately applied what I learned with noted success!"

Lauren Anstey

Educational Developer | Curriculum Development and Program Improvement Centre for Teaching & Learning | Queen's University

Overlap Associates Inc. | Creative Problem Solving School

"...Overlap training introduced me to a process and a wealth of tools that will take our planning to the next level. Moving to virtual training did not dampen Ryan and Nicole's enthusiasm, and their insights helped me understand how to apply these tools in my own organization. I cannot wait for my next planning session!"

Dr. David H. Michels

Head of Public Services Law Library, Dalhousie University

Overlap Associates Inc. | Creative Problem Solving School

"The training at Overlap encouraged me to fall in love with the problem and understand it deeply. The iterative design process teaches that failure is valued as a necessary step to designing the best solutions. This relieves the pressure of trying to 'get it right the first time.' Using this approach in our organization has promoted a new sense of engagement in our staff team, as people feel their voices are valued in the process."

Terral McBay

Extend-a-Family Waterloo Region
Community & Staff Engagement Foundations  
Creative Problem Solving: 301
(Live Online Cohort)
October 12 & 14, 2022
9am-12pm EST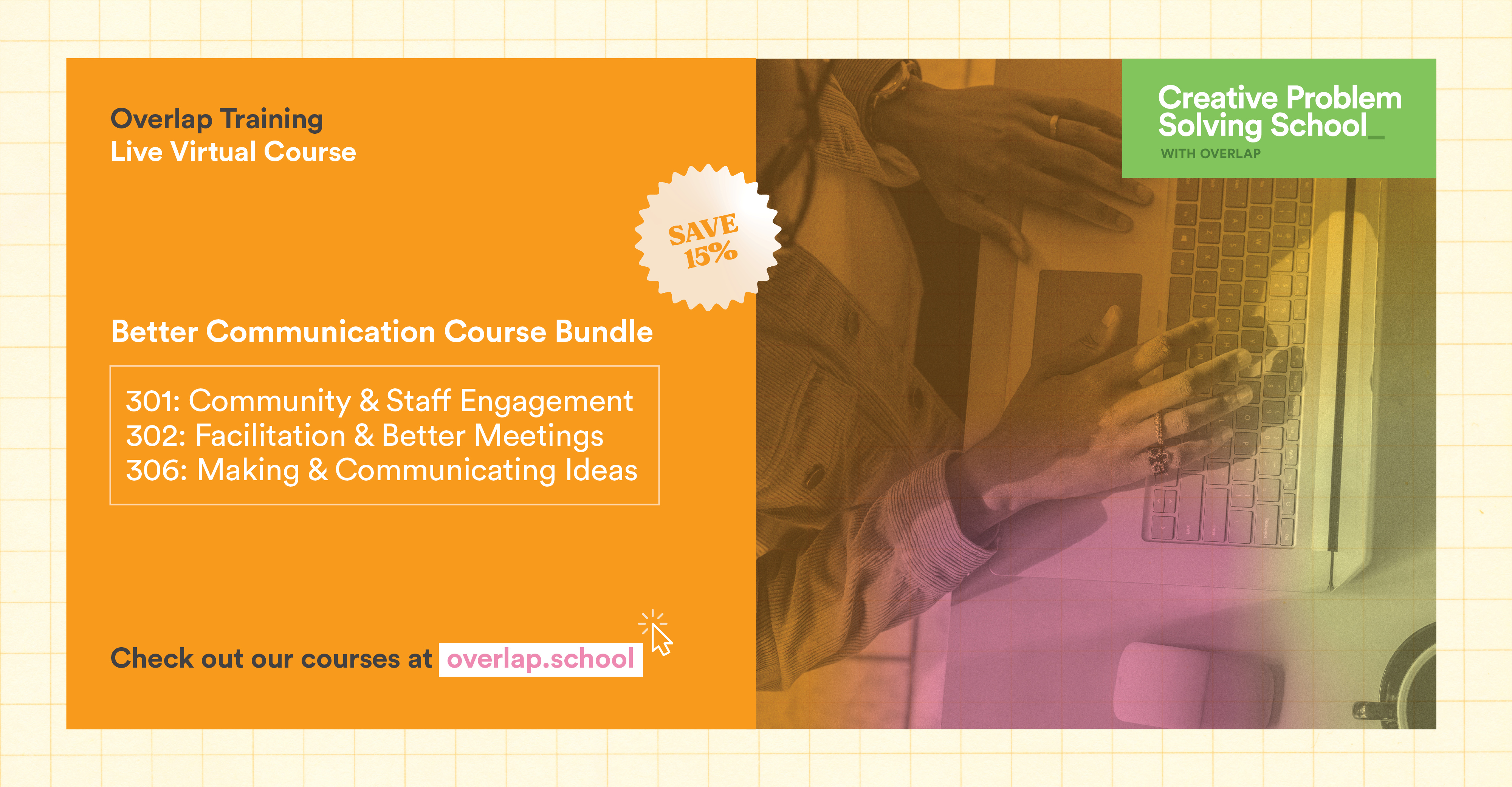 Are you interested in becoming a better communicator?  You can save over 15% by registering for our Better Communication Bundle, which includes: 301) Community & Staff Engagement Foundations, 302) Facilitation & Better Meetings, and 306) Making & Communicating Ideas.  Sign up for all three courses today and save!